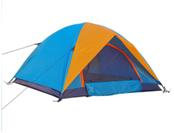 With so many high quality tents on the market these days, where should one start when thinking of buying a tent? There are a few topics worth considering before choosing your tent.
Design: How and when you plan to use your tent is going to dictate what type of tent you look to buy. The different types of tent you might consider are:
Dome: Simple design, typically two crossing poles bent into a dome shape, with a flysheet pulled over the top and the inner pegged to the inside. Moderately stable in poor weather, but will struggle in high winds. Generally cheaper than other designs, the dome is best suited for those looking for a straight-forward tent for summer camping, perhaps as a family holiday or at festivals. Dome tents tend to sleep 2-3 people, although larger versions can accommodate 4 or even 5. The Vango Alpha 250 is a classic entry level dome tent.
Geodesic (or semi-geodesic): The expensive brother of the dome tent, geodesic tents have a series of curved poled ergonomically designed to distribution tension from high winds across the surface of the tent and down into the anchor point. Poles generally rest on one another, to prevent excess pressure on one point. These tents are steady as a rock even in dreadful weather, and unlike tunnel tents can tolerate winds from any direction without much trouble. As a result, geodesic tents tend to be more expensive than other tents. The Vango Hurricane 200, with its four criss-crossing poles is one of the cheaper geodesics on the market, but don't expect much change from 200. Only really required by those on expedition or planning for winter camping in hostile climes, but they will also get envious looks at a summer music festival if you've got the money to spend.
Tunnel: The idea behind tunnel designs is that they cut through the wind and as such represent greater stability. This may be very true on the smaller tents, such as the Force 10 Helium 100, which hugs the ground and is steady even in very high winds, but for the larger group tents we suspect that most use the tunnel design because it is the easiest way of accommodating large groups of people. Group tents with ends that taper down to the ground, such as the Vango Orchy 600 are a little more stable than the 'barrel-shaped' alternatives. A point to note with all tunnel tents, they should be pitched so the 'blunt' end (i.e. where it tapers from the highest point to the ground the most quickly) faces into the wind.
Weight: If you are planning on carrying the tent when backpacking or cycle touring, the weight of the tent is going to be very important. As a good rule of thumb, anything under 1.5 kgs per person should be considered as lightweight.
Lighter tents are more expensive, as the materials from which they are made are better quality to provide similar conditions at lighter weight, so you should decide whether you really need to go for a super-lightweight tent. As cool as it might be to brag over titanium tent pegs and poles designed by NASA, you might be able to save lots of money with a slightly heavier tent. On the other hand, if you are taking part in mountain marathons or keen fairly extreme backpacking then shaving an extra 500g off your total pack weight will pay dividends as you approach the top of your fourth munro of the day. For example, the Terra Nova Laser Photon 1 weighs just 720g - lighter than a pint of beer, and just as satisfying at the end of a long day in the hills.
Internal dimensions: All three internal dimensions, length width and height, are important considerations when choosing your tent.
Length: On length, most tents reviewed on this site give between 205cm and 230cm of length. Remember that the inners of most tents taper down to the bottom edge, so we'd recommend that anyone over 6ft tall probably avoid the 205cm, and anyone over 6ft 4in will find 210cm a little short. Only the tallest campers should have a problem with 220cm and above.
Width: One person tents tend to vary from 70cm to 110cm in width. For two person tents, the width tends to vary from 100cm to 150cm. For 3+ person tents, a good guide for comfort is 60cm per person. As a point of reference, a normal sized double bed in the UK is 135cm wide, so a two person tent of close to this width should be more than comfortable enough for two people.
Height: The internal height of tents varies considerably. It is only likely to be of importance in group tents, where there is an external area that can be used to relaxing, on which we'd recommend you look for a tent with a max height greater than your own so you can at least stand straight-up. On smaller tents, less than 80cm of height generally means that it might feel claustrophobic for some campers - but a low profile improves the stability of the tent in high winds.
Hydrostatic Head: Arguably the most important statistic of a flysheet or groundsheet is the 'hydrostatic head', a rather obscure measure to test what height of water can suspended on the fabric. A 1000mm hydrostatic head implies that pressure associated with one metre of water can be withstood by the fabric before it begins to leak. The Ministy of Defence defines materials with a hydrostatic head of 800mm or more as waterproof, whereas most tent manufacturers would consider 1000mm as fully waterproof.
However, the hydrostatic head (often abbreviated to HH) also tells you a lot about the general strength of the material. High winds can stress the fabric on flysheet, whereas stones and other debris can tear groundsheets, so a high hydrostatic head is beneficial in lots of ways.
Generally speaking, the following guide can be used to the hydrostatic head of flysheets:
1500-2500mm: Waterproof, but best suited to spring or summer conditions, may show some weakness in high winds or torrential rain and not suited to repeated exposure to poor weather
3000-4000mm: Suitable for pretty much anything the UK weather can throw at it, but may occasionally suffer in extremely poor weather or wintry conditions
5000mm: Expedition quality, all-weather fabric
Note that a higher hydrostatic head to the flysheet can adversely affect breathability of the fabric, and as such may worsen condensation issues.
Groundsheets should have a hydrostatic head of at least 6000mm, although 8000-10000mm is more common. Most modern tents have a 'bathtub' groundsheet design, in that the groundsheet also rises up about 15cm around the base of the tent. A high hydrostatic head twinned with a bathtub groundsheet should keep you dry even if you pitch your tent on ground which floods (provided that the flood water is not higher than the bathtub lip).
Hopefully this has helped you decide what kind of tent you are looking for - or maybe it has just added to your confusion! Don't worry, our tent buying guides at Top Tents will help you find the perfect tent in no time.