A Camping Hammock
Views: 103 Author: Desent Publish Time: 2017-02-08 Origin: Desent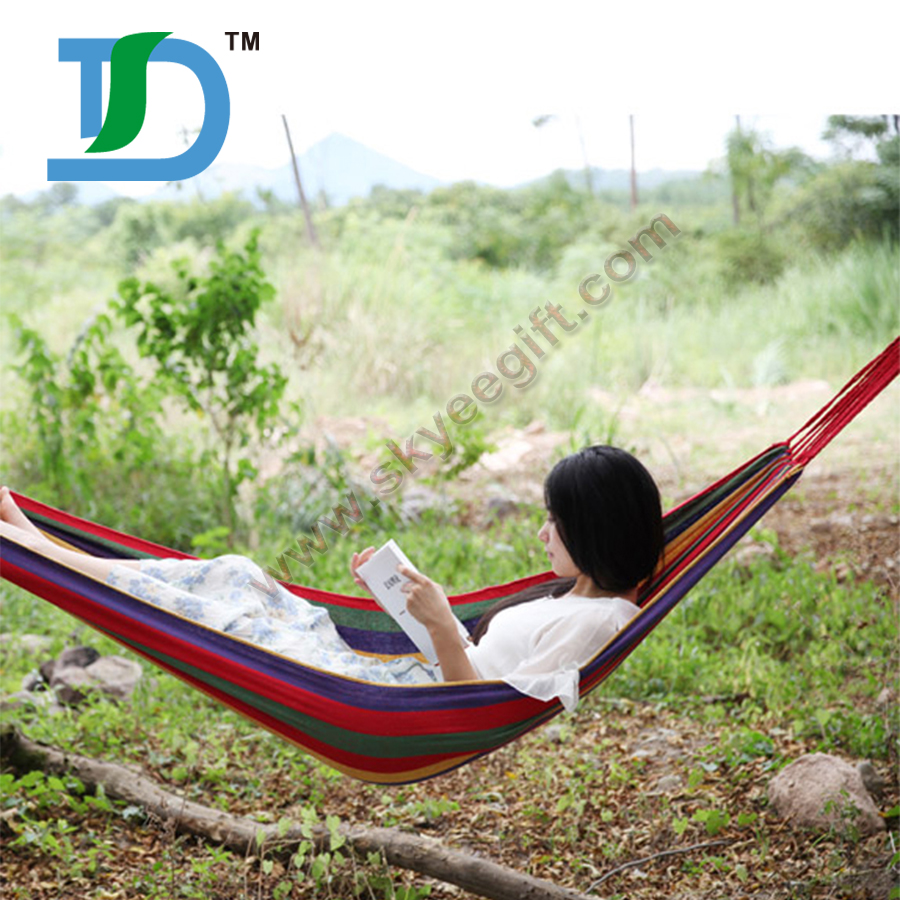 A camping hammock can be your best family friend. You can enjoy a perfect holiday in the summer with your family when you go out on camping. If you are a nature lover and love to go for treks and hiking, then these hammocks can help you immerse yourself in the beauty of nature. When you carry a hammock with you, you will be able to enjoy the comforts of your home anywhere you want. Whether you are a outdoor go-getter or want to spend lazy afternoons under the sun, you can simply relax in these hammocks. These will also remind you of your childhood days.
The Travel Hammock Ultra Light Hammock: When you are going hiking or camping, it is advisable to carry as light luggage as possible. However that does not mean you have to sacrifice your comforts. This hammock is just right for lazing around, taking an afternoon nap, or even getting a good night's sleep. It is made of pure polyester taffeta. The weight is just 12 ounces and hence, you do not add weight while carrying your bag pack. This is the best option to keep from sleeping on the ground. If you are traveling in an area where it may not be safe to sleep on the ground, using this hammock can offer very good solution.
This hammock is easy to setup as it comes with a hanging kit. The kit has ropes that are 10 feet in length, attached S hooks, and a detailed manual for fixing the hammock. The hammock can hold up to 250 pounds, and comes with 10 year warranty. It is 9.5 feet long and 4.5 feet wide.
Texsport Wilderness Hammock with Mosquito Netting: This is a multipurpose hammock that can convert into a tent very easily. The hammock bottom is made of cotton canvas. The hammock has mesh to protect yourself from mosquitoes and other insects and bugs. With this hammock you can rest assured of your safety and comfort. The hammock is quite spacious and measures 82" x 28" x 18". The capacity of the hammock is 250 pounds. It comes with a nylon storage bag and weighs around 3 pounds. The price of this hammock / tent is only $35.
Hammock Bliss Single Portable Hammock: This hammock provides ultimate comfort to its users because it is designed to provide the most comfort to the body. This strong yet beautiful hammock can carry 350 lbs of weight. The other features of this hammock are its compact size; it is lightweight and can be washed in washing machine. The hammock can dry easily. It is equipped with 6 mm thick climbing rope which is 100 inches in length. In addition, it is easy to transport this bag as it comes with a travel bag attached which can also be used as gear pouch. The climbing ropes at the sides are made of 100% nylon. The nylon used in the ropes is of superior quality which can dry quickly, is soft, and does not rot.
Hammock Bliss Double - XL Portable Hammock
This hammock is designed to be spacious so that you do not feel cramped while resting. In fact, you can sleep in any direction in the hammock. 80 inches x 118 inches, it measures 25 inches more than any single sized hammock. The fabric used in making this hammock is nylon parachute silk which means it is resistant to mildew and will not rot. The 100-inch ropes come attached to the hammock so that it is ready to be hung any where. Another feature is that the hammock comes with the sack. The hammock is light weight and weighs just 21 ounces and hence is ideal for traveling. It can be washed and dried in the washing machine, and is available for only $50.
Camping hammocks offer many great advantages. First, they are very affordable and lightweight. Hence, they can be easily carried with you. Secondly, these hammocks are to be tied above the ground, and if the camping place is infested with harmful insects and pests, sleeping above the ground will offer security. As compared to tents, hammocks can be easy to assemble and transport. These camping hammocks are available in several vibrant colors and are easily washable.
Hammocks are much preferred over sleeping bags as camping hammocks are much more comfortable. Some of them are equipped with mesh so that you get protection from mosquitoes. These hammocks come in various sizes, suitable for single and two people. The normal capacity of these hammocks for a single person is about 250 to 350 lbs and can accommodate even a large person easily.
Whether you want to go camping in summer or you want to gaze at the stars and the moon lit skies, just tie the hammock and enjoy nature to the fullest. The hammocks generally are equipped with all the accessories such as hooks, pre tied knots, and thus you simply have to secure the hooks with a strong branch of tree. A camping hammock is an absolute must if you are going to spend the day or night outdoors.